Pasta Fiorentina
A flavorful pasta dish that's quick and easy to recreate yourself.
---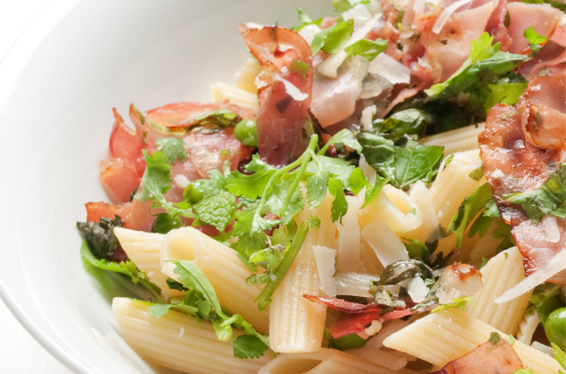 Ingredients:
3 large garlic cloves peeled and chopped
2 Tbsp. Sofo olive oil
1/2 lb. pancetta or bacon
6 oz. heavy cream
8 oz. Sofo ricotta
3 Tbsp. fresh Italian parsley chopped
8 oz. spinach
2 Tbsp. butter
3/4 cup Sofo grated parmesan
1/2 tsp. salt
1/2 tsp. black pepper
1 lb. penne pasta (or your choice of pasta cut)
Instructions:
1. In a large stock pot boil pasta for the recommended time.
2. While pasta is cooking, combine the butter garlic and olive oil in a pan and cook over low heat.
3. Slowly add heavy cream, ricotta, parmesan and spinach continue to cook over low heat until hot.
4. In a separate pan saute the pancetta or bacon over a medium heat until browned.
5. Drain off most of the grease.
6. Combine the pancetta into the heavy cream and ricotta.
7. Add the cooked pasta into the cream mixture.
8. Salt and pepper to taste.
9. Garnish pasta with fresh Italian parsley.