Sofo's Tortellini Soup
A delicious Sofo family recipe! This delicious Italian style soup is filling enough to serve as a meal. Serve it with Sofo's fresh baked Italian bread.
---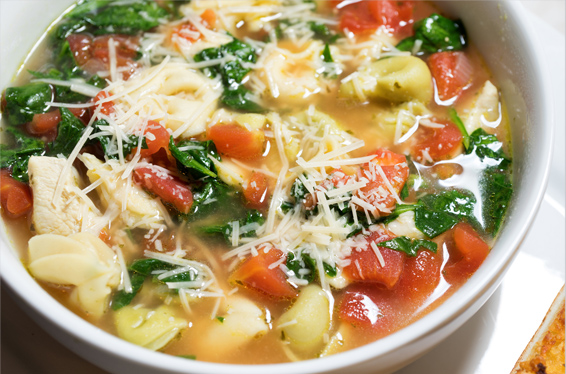 Ingredients:
1 large 32 oz. container of chicken broth
1 large 28 oz. can of pear or crushed tomatoes
1 can 14 oz. chic peas (garbanzos)
1 lb. Sofo's bulk mild Italian sausage
1/4 cup Sofo's olive oil
2 cups chopped onions
2 bay leaves
1 bag Sofo's tricolor cheese tortellini (frozen)
1 Tsp. rosemary
1 Tsp. basil
1-2 Tsp. minced garlic
1 bag fresh spinach (washed and torn)
Instructions:
1. Brown sausage in a skillet and drain off the grease. Set aside.
2. Saute onions in olive oil until they are golden and soft.
3. In a stock pot, combine all the ingredients except the tortellini.
4. Simmer for about 30 minutes.
5. Add the cheese tortellini to the stock pot and cook using the package instructions.
Once the tortellini has been added it will soak up the broth. When serving leftovers you may want to add additional broth.