Panettone French Toast
Make French toast, the Italian way! Panettone French Toast is an Italian flair on tradition French toast that will leave your family and friends crazy for more.
---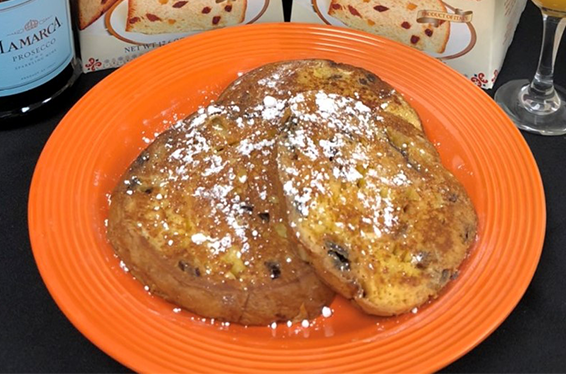 INGREDIENTS:
16 oz La Florentine Panettone (about 6-8 slices)
3 Large Eggs
1/2 Cup Milk
1 Tbsp Sugar
1 tsp Cinnamon (optional)


INSTRUCTIONS:
Wisk together eggs, milk, sugar, and cinnamon.
Place sliced Panettone in a shallow sheet pan or cookie tray and pour egg mixture over all pieces. Let soak for about 5 minutes, turn once.
Heat frying pan or skillet to medium-high. Use butter or non-stick spray. (be careful not to burn the butter)
Cook 2 minutes per side until golden color.
Serve with powder sugar and butter.
Top with your favorite Maple Syrup
"Mangia, Eat"