Pasta Primavera
Pasta Primavera is a fresh dish that bursts with color and flavor
---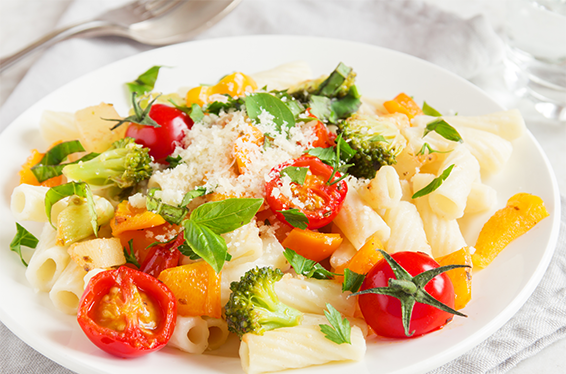 INGREDIENTS:
Penna Pasta 1 bag
Peas 7 oz.
Broccoli, chopped 6 oz.
Fresh red peppers strip cut 4 oz.
Fresh yellow peppers 4 oz.
Sofo Extra Virgin Olive Oil 4 Tbsp.
Onion, small 1 ea. diced
Heavy cream 1 cup
Chicken stock 6 oz.
Directions:
1. In a large stock pot, boil water and cook pasta to package directions.
2. In a large saute pan, saute the vegetables in the extra virgin olive oil over medium heat for about 15 to 20 minutes
3. Add the heavy cream and blend well.
4. Add the chicken stock and blend well.
5. Cook for another 15 to 20 minutes over medium heat.
6. Salt and pepper to taste.
7. Serve over top penne pasta.