Pasta Francesco
Pasta Francesco is a versatile recipe that works well with all types of pasta like spaghetti, tortellini, ravioli and gnocchi.
---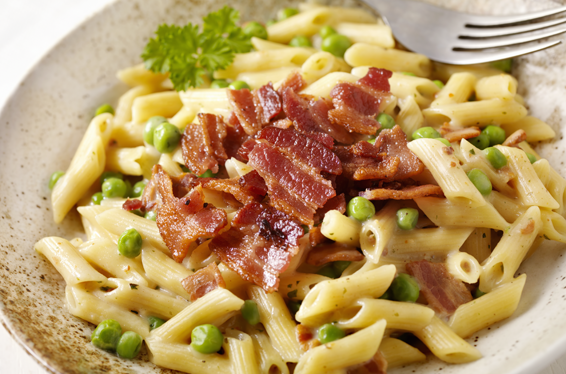 INGREDIENTS:
Penne Pasta 1 bag
Peas 7 oz.
Bacon or pancetta 6 oz.
Sofo's extra virgin olive oil 4 Tbsp.
Onion 1 small
Heavy cream 1 cup
Chicken stock
INSTRUCTIONS:
Cook pasta according to directions on the bag.
Drain and set aside.
Put olive oil in a saute pan and heat to medium.
Add the bacon or pancetta to the pan and saute for about 15-20 minutes.
Salt and pepper to taste.
Add the peas.
Add heavy cream and simmer until the flavors are blended.
Add the chicken stock and simmer for 15 minutes more.
Add the sauce to the pasta.